Roof Repair Contractor in the Toledo, Sylvania, Perrysburg, OH and MI area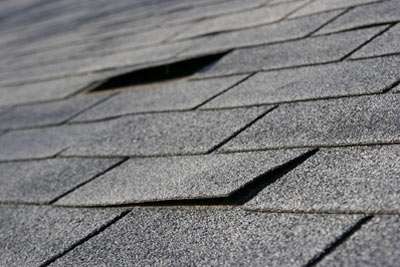 Shingle lifting. Lifting shingles is a common roof problem that should be repaired to prevent water from leaking into your home and causing costly damage.
Don't ignore a leaky roof! We're here to help. Arnolds Home Improvement is a BBB accredited and award winning contractor that excels in roof repair.
The surest sign of a leaky roof is when water has stained your ceiling or walls. Finding the spot where your roof is leaking can be difficult since water can enter the roof in one spot and run down to another before it gets into your living space.
While most roof leaks are caused by damaged or missing shingles or tiles, the problem may also be inadequate flashing or more serious deterioration of the roof covering. Here at Arnolds Home Improvement, we can find roof leaks quickly and provide all roof leak repair services. Why risk climbing on your roof? It's best to trust your expert roof contractor for fast, reliable help!
Get a FREE estimate today on a roof repair by clicking the FREE estimate button.
We Can Fix Your Roof Problems
Roof Leaks
Blow-off damage from high winds
Hail damage
Snow and/or ice damage
Structural damage from falling trees
Damaged or missing shingles & roof flashing
Damaged gutters and downspouts
Roof ventilation issues
Free estimates for roof repair & maintenance in Ohio and Michigan
Whether your roof is damaged by a recent storm or from normal wear, our goal is to improve the condition of your roof and prolong the need for costly roof replacement. Contact us today to discuss your needs with one of our knowledgeable specialists! We will provide you with a free estimate for roof repair in Perrysburg, Temperance, Bowling Green, Oregon, Findlay, Maumee, Lambertville, Ypsilanti and surrounding areas.