Roof Replacement & Installation in Toledo, Sylvania, Temperance & Nearby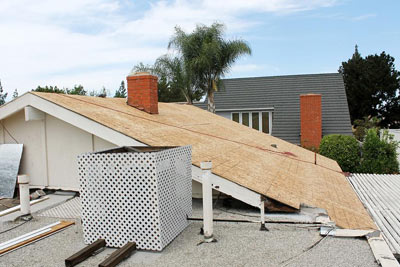 Minimal disruption. During your re-roofing project, we ensure that your house and landscaping will be properly protected.

The Design EyeQ® Visualization Tool allows you to experiment with different roofing options to create your "dream home look" before you make a purchase.
If you're looking for a roofing contractor in Greater Toledo that you can trust to handle your roof replacement project and provide unmatched customer service, you've come to the right place. No homeowner looks forward to replacing their roof, but when the time comes, it's best to work with a qualified professional to make sure get the best products and installation to give you the best protection for your home.
Arnold's Home Improvement's roofing contractors have the expertise and training to install any roofing system with quality and precision while keeping costs low. If you think you might need a new roof, let our experts inspect your roof and provide you with a free roofing estimate. If you do need a new roof, our roofing specialists will help you choose the right shingle or roofing material to match the style of your home.
Contact us today to request your roofing inspection and free estimate in Toledo, Sylvania, Temperance or nearby.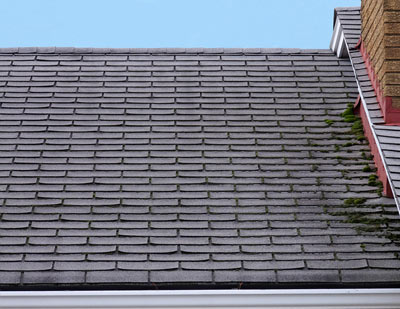 Dark streaks on an asphalt roof. Algae & moss growth on the roof not only looks bad, it can also lead to roof damage.
Signs that you might need a new roof
Roof is at least 20 years old
Roof looks old and worn
Dark stains from algae
Moss growth on shingles
Curling or cracked shingles
Bald spots where granules are missing
If your roof is old or you've noticed signs of a roof problem, we can assess your roof to determine if it's time for a re-roof and provide you with a free estimate for replacement or the services you need.

We offer a variety of roofing options
In addition to helping better-protect your home, a new roof can also increase value and give your home's exterior a fresh look. We install top-of-the-line roofing systems in a variety of styles, colors, and prices to meet your taste and budget.
Asphalt shingle roofing
Wood shakes & shingles
Flat roofing systems
Installing a new roof can be cheaper in the long-term
While replacing damaged shingles is inexpensive, the downside is that the replacement shingles may not match the existing roof. If you have more significant damage that is confined to one side of the roof, partial reroofing is an option, but can cost more in the long term. If an asphalt roof already has two or more layers, all layers will have to be removed before completing the partial re-roofing. If your roof needs to be replaced, you'll have to decide whether to install the new roof over the existing one or tear the old one off. A complete re-roof ensures that water-damaged sheathing will be found and repaired, preventing future issues. Our contractors will recommend the best options and provide a free quote for your project prior to beginning any work on your home.
Products
Owens Corning Roofing Options
Owens Corning offers a wide variety of shingle options, all of which meet the highest standards of quality, durability, and appearance. The three main categories are architectural, specialty, and traditional shingles. Architectural shingles are available in many lines, including TruDefinition Duration Shingles and Oakridge Shingles. Similarly, specialty shingles include Devonshire Shingles, Berkshire Collection Shingles, Duration Premium Cool Shingles, and TruDefinition Duration Storm Impact Resistant Shingles.
Benefits of Owens Corning shingles:
A variety of color choices
Energy efficient options
Extensive warranties
Strong and durable
Ready to schedule your roofing estimate?
To learn more about the roofing systems we install, contact Arnold's Home Improvement today. As a full-service home improvement contractor, we offer free estimates in Bowling Green, Ann Arbor, Maumee, Perrysburg, Adrian, Monroe, Sandusky and throughout Ohio and Michigan.
Looking for a price? Get a no cost, no obligation free estimate.