Gutter Installation in Toledo, Sylvania and Throughout OH and MI
Your contractor for quality rain gutters and expert installation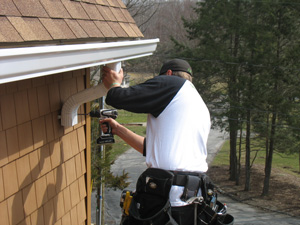 Don't let the rain ruin your home. Properly-installed gutters and gutter protection provide protection against erosion, plant damage, and basement flooding.
Gutters are a critical component of your home and play a major role in protecting it from the costly and unpleasant effects of water damage. When water isn't properly channeled away from your home, the excess moisture can lead to landscape erosion, cracked foundations, basement leaks, dry rot, insect infestation, and icy sidewalks and driveways.
At Arnold's Home Improvement, we install seamless gutters and gutter protection systems that perform efficiently and will protect your home from water damage for many years to come.
Contact us today for a no-obligation estimate for gutter installation in Toledo, Sylvania, Temperance or nearby.
What you can expect from our gutter services:
Inspection and measurements prior to installation.
Custom gutter solutions, measured to exact specifications.
Strong, seamless, watertight gutters.
Complete clean-up and debris removal.
Gutter protection and gutter systems installed by licensed professionals.
Types of gutter products we install
We install a variety of rain gutter systems for homes in Ohio and Michigan. During your free consultation, we will show you all of your gutter options and help you choose the best gutter system for your home. Our gutter products include:
Seamless aluminum gutters
Seamless gutters are effective and affordable, making them a top choice among homeowners. Seamless aluminum gutters are custom-fit to the exact length needed and have no joints or seams to let in water or debris. Aluminum gutters also offer many advantages - they won't crack or split like vinyl or rust like steel. Our seamless gutters are a long-lasting, inexpensive solution that can be installed hassle-free.
Gutter guards/leaf protection
If you're installing new gutters, it makes sense to think about installing gutter guards (also called leaf filters, gutter covers, etc.) as well. This adds a little expense to the job, but eliminates a lot of headaches over clogged, overflowing gutters that can damage your home. Besides, if you're investing in new gutters and downspouts, why risk having them become filled with rotting leaves, twigs and other debris?
Contact us for help with your gutters
Investing in proper rain gutter installation can improve your home's value and curb appeal and prevent costly repairs. In addition to seamless gutters and gutter guards, we also provide homeowners with exceptional roofing services. For more information or for a free estimate, contact Arnold's Home Improvement today. We are the trusted remodeling company in Ann Arbor, Bowling Green, Perrysburg, Maumee, Sandusky, Adrian, Monroe and throughout Ohio and Michigan.