Seamless Gutters Installation in Temperance, Bowling Green, Oregon, Findlay, Maumee, Lambertville, Ypsilanti
Trust the pros to install your seamless gutters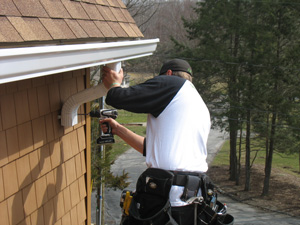 Affordable solution. Less expensive than other types, aluminum gutters are custom-fabricated to fit your house. Different sizes, styles, and colors are available.
Seamless gutters protect your roof and home from water damage and structural damage. Seamless gutters also add curb appeal to your home. Whether you want to install a new rain gutter system alongside a new roof or you simply want to replace your worn-out gutters, Arnolds Home Improvement's seamless gutter installation in Toledo and beyond might be the right solution for you.
We install quality seamless aluminum gutters in a variety of colors and styles to meet your needs and budget. Schedule a free in-home consultation today to learn more about our products.
Why choose our seamless aluminum gutters?
When you choose our company for your seamless gutter installation, our team of highly-skilled and knowledgeable technicians will install 5- to 6-inch aluminum gutters that are:
Customizable – You can tailor your gutter installation to suit your functional requirements and aesthetic needs. Along with choosing from 20 different color options, details such as whether you want your fascia board covered or showing or if you'd like the color of the gutters to match the color of your home will also be discussed.
Seamless – Our gutter systems aren't riddled with unsightly seams, which not only makes them more attractive but also minimizes the risk of leaks. Due to the absence of joints and seals that can erode or gather debris, our seamless gutters also require much less maintenance.
Get a free estimate to add seamless gutters to your home
Seamless gutters that are properly installed can increase your home's resale value and prevent expensive repairs. Schedule your free estimate for gutter installation today!
In addition to gutter installation, Arnolds Home Improvement provides professional roofing and remodeling services in Temperance, Bowling Green, Oregon, Findlay, Maumee, Lambertville, Ypsilanti and throughout Ohio and Michigan.
Looking for a price? Get a no cost, no obligation free estimate.