Bathroom Remodeling Services in Toledo, OH and MI and Surrounding Areas
We can handle minor updates or a major bath remodel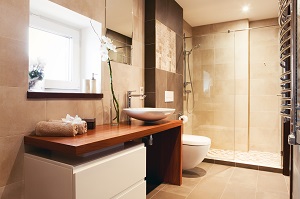 A modern look. New fixtures and an updated vanity can completely transform the look of your bathroom.
For many homeowners, bathrooms are at the top of the home remodeling list. This is easy to understand given the amount of use bathrooms get and the benefits they can have for home value.
If you want to update your bathroom, Arnold's Home Improvement are the local remodeling experts you need. We handle all types of bathroom design and remodeling work, including updates, conversions, and custom designs.
Call us today at 1-855-602-8348 or click below to get a free estimate on bathroom design and installation services in your home! We offer all our services in Temperance, Sylvania, Toledo and the nearby areas.
Customer Reviews
"Found Arnolds on Home Advisor website. Was impressed by your ads. The..."

"Excellent service, could not ask for better"
We cover all aspects of your bathroom remodel
When you begin a bathroom remodeling project, it's essential to know what your key goals are. Do you simply want to upgrade the look of your bathroom? Do you want to convert a tub to a shower or install a walk-in option? Are you looking to change the layout of the room?
Arnold's Home Improvement will help you answer all of those questions and design the ideal bathroom for your home. Our complete bathroom remodeling services include:
Tub to shower conversions
New tub and shower installation -- including walk-in tubs
Bathroom vanity installation
Replacement countertops
New flooring
Small bathroom and powder room remodeling
Get the comfortable, beautiful bathroom you want today
If you're ready to update your bathroom, the experts at Arnold's Home Improvement are here to help. Our complete bathroom remodeling services will ensure that you get the perfect design for your home and have a relaxing space to enjoy.
We offer free estimates on all our remodeling services, so call us today to get started. We are the trusted remodeling company in Toledo, Sylvania, Temperance, Bowling Green, Ann Arbor, Maumee, Perrysburg, Adrian, Monroe, Sandusky and throughout the nearby areas.